2015 Topps In Review, So Far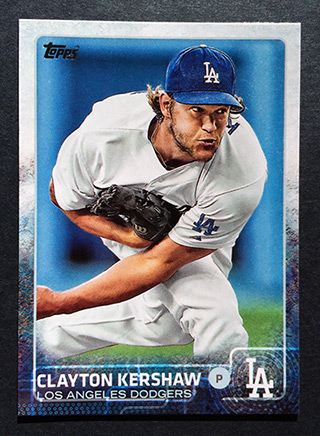 At 13, I put down the Beckett baseball card price guide, picked up a Rolling Stone and haven't looked back. But then we started Rock & Roll Shin-Soo Choo. And since vinyl collectors can be similar to card collectors, I've felt it my duty to get to know the baseball card industry again. Much has changed since I last collected in the early 90s. Prices increased to a minimum of a couple bucks a pack. Many designs grew bloated, forgoing the subtle, though still flawed, elegance of many pre-1990 designs. And only one company is allowed to put team logos on baseball cards – Topps, who released their 2015 Topps Series 1 last week.
When I was 10 and collecting baseball cards, I wanted to be a second baseman for the Boston Red Sox. Alas, I've turned into a web and graphic designer in Kansas City, so I'm looking at cards in a whole new way. After sifting through my old shoeboxes, I now notice the design flaws inherent in even the card sets romantically considered to be the height of card design for my generation – flaws that could have easily been fixed during the initial design, like the inconsistent type treatments of the player's names in 1986 Topps or the decision to use listless player photos in any set. Other design miscues reveal themselves only after time, like the 8-bit Super Mario Bros.-like bevels that prevent the classic 1989 Upper Deck and 1992 Fleer Ultra sets from being considered timeless.
But these miscues pale in comparison to the outright design atrocities that occurred through the 90s and 00s. That was a good time for me to be collecting Neil Young and Allman Brothers Band records. Over the last few years, Topps has been good about making the card less about a gaudy frame and more about the player photo. And the design of 2015 Topps is promising, though still threatens to date itself in the coming years. The rounded frame and grungy gradient of 2015 Topps is tasteful, but the background degenerates into a trendy earthquake epicenter and subway map at the bottom, which actually makes the player's name and team harder to read – something I'd consider a cardinal sin if I were employed by Topps. At least they've moved on from slapping gold foil over the top of the type, rendering it mostly illegible.
The super sharp player photos contain heavy contrast levels and color saturation, making them really pop. This is a huge improvement over the fuzzy, distant action shots of the pre-90s. But some photos are overdone and look unnatural. Sean Doolittle appears as if he were passed twice through a crappy Instagram filter, another technique that could date the set. Some players, like Trevor Cahill, suffer from a dark outline surrounding their body – a distraction that may be the result of over processing or modifying the background.
Backs of cards jam-packed with stats can no longer be taken for granted. Outside of this flagship Topps set, you'll often find only a single year's worth of stats surrounded by bloated design filigree. But the backs of 2015 Topps stay true to their tradition and contain career stats for veterans and even minor league stats for the youngsters. In recognition of the influence of the sabermetrics community over the last two decades, hitters stat lines now include OPS and WAR. New stats give better context, which is never a bad thing.
Putting a few flaws aside, 2015 Topps is a good set to recapture my collecting interests. So I'll buy a few more packs and still have time to look forward to the new Unknown Mortal Orchestra and Sufjan Stevens albums set for release later this year. For the first time in my life, these two hobbies can coexist.